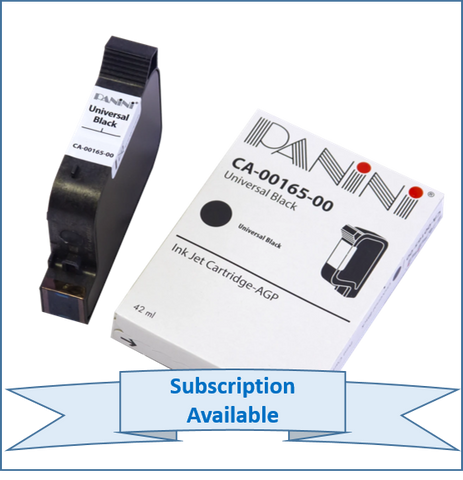 AGP Ink Jet Cartridge
AGP Ink Jet Cartridge (Panini Universal Black)
We recommend the use of the Panini Advanced Graphics Printing (AGP) Cartridge (CA-00165-00) that provides outstanding yield and high performance in Panini scanners equipped with the AGP option for printing multiple lines of text or graphics. This cartridge incorporates specially formulated ink that allows for fast drying time, longer open time and improved ink spray performance. PLEASE NOTE : Before ordering, you should check with your bank or provider to ensure that printing is available for your scanner(s). Printing is not supported through all scanner software. Open or used inkjet cartridges cannot be returned for credit.
Click here for more information.
For a one-time purchase of this product, please click the Add To Cart button above. If you would like a recurring subscription of these products shipped to you, then you may complete the PayWhirl checkout below.
If you start a subscription then you will be shipped this product on a scheduled basis. Your card information will be stored separately and securely in the PayWhirl system.
All subscriptions are shipped by UPS Ground. You will only be charged after each order has been shipped to you. You will see invoices in the PayWhirl system for $0, this is only to show you the date that the order was created and prepared for shipping. There is no up-front cost for starting a subscription, you will only be charged after shipment.
You may select the quantity of the product to be shipped to you, using the + and - buttons below. Please note that each charge will include the unit price plus the UPS Ground shipping cost, and sales tax (if applicable).
Your account can be managed by using the Subscription Portal link in the menu, or by going to http://subscriptions.paninionlinestore.com. You can update your information, view invoices and cancel subscriptions. If there are any questions, please e-mail us at orders@panini.com.
---