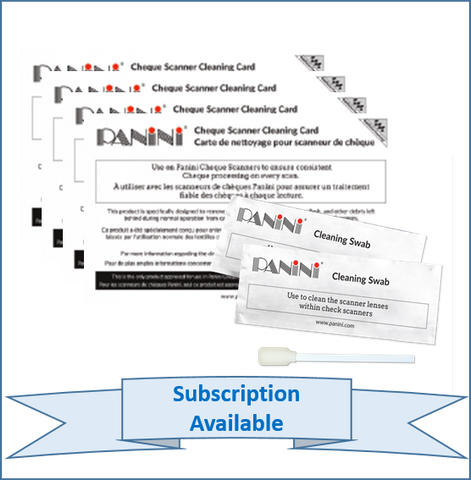 Panini Non-Ink Cleaning Kit
Panini Non-Ink Cleaning Kit for mI:Deal, I:Deal, Vision X (without ink cartridge), EverneXt (without ink cartridge) and Vision neXt (without ink cartridge) Check Scanners. 
Your check scanner can accumulate dust and debris from the checks, documents and general environmental particles in the air. This dirt collects and clouds the optical lenses inside which are the most critical component of the scanner. These optics allow the imaged check to become a legal document for check clearing as stated in the Check 21 law. The ability of the scanner to properly create the image is why the optics are the most critical component of the scanner. Panini Waffle technology Check Scanner Cleaning Cards were developed by KIC Team to clean the scanner's optics of built up dirt. In addition, it will also clean the magnetic heads and the transport roller mechanisms that allow the check to pass through the scanner. This card, when used as a consistent maintenance product, will keep your Panini mI:Deal, I:Deal, Vision X and Vision neXt Check Scanners performing as designed. The Panini Cleaning Kit, contains 26 of these cleaning cards and 6 premoistened cleaning swabs. 
For a one-time purchase of this product, please click the Add To Cart button above. If you would like a recurring subscription of these products shipped to you, then you may complete the PayWhirl checkout below.
If you start a subscription then you will be shipped this product on a scheduled basis. Your card information will be stored separately and securely in the PayWhirl system.
All subscriptions are shipped by UPS Ground. You will only be charged after each order has been shipped to you. You will see invoices in the PayWhirl system for $0, this is only to show you the date that the order was created and prepared for shipping. There is no up-front cost for starting a subscription, you will only be charged after shipment.
You may select the quantity of the product to be shipped to you, using the + and - buttons below. Please note that each charge will include the unit price plus the UPS Ground shipping cost, and sales tax (if applicable).
Your account can be managed by using the Subscription Portal link in the menu, or by going to http://subscriptions.paninionlinestore.com. You can update your information, view invoices and cancel subscriptions. If there are any questions, please e-mail us at orders@panini.com.
Part Number: SE116683-00
---